LED Tri Proof Lights

FAQs About Tri Proof Lights
What is tri proof lights?
Tri-proof Light stands for light fittings with three features: Corrosion-proof, Dust-proof, Waterproof. It is also called vapor-tight/proof or waterproof light. To keep them from becoming damaged and meeting industry standards, they are manufactured with special corrosion-proof silicone sealing rings and materials. Where the cable is, the manufacturer has installed waterproof PG connectors, ensuring that water and dust cannot enter.
LED tri-proof lights are also designed to weather high-pressure situations. The typical IP ratings of tri-proof lights include IP65 and IP66, but some manufacturers have designed them to be IP68 and IP69.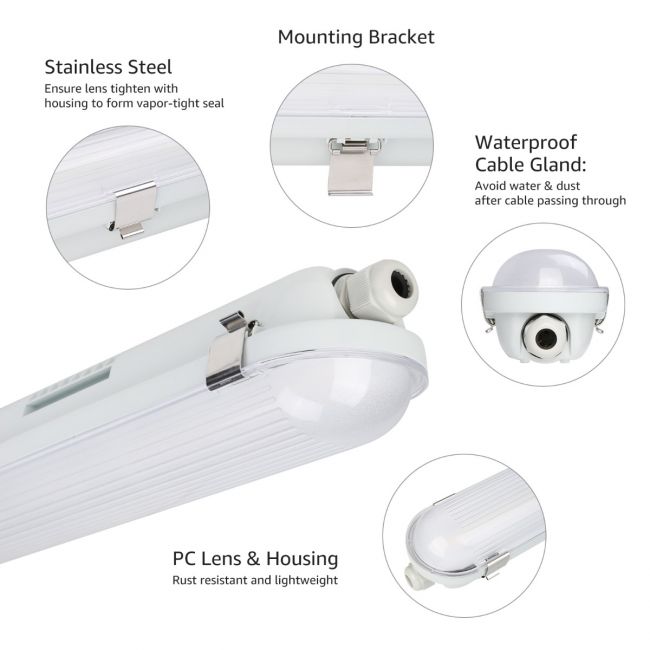 What are the advantages of using tri-proof light?
1. Low hazard, no UV or infrared rays, creating a healthy working environment.
2. Long lifespan, through a series of aging tests, the life expectancy can reach >54,000hrs.
3. Energy-saving, led tri-proof light can save 85% energy compared to traditional lamps.
4. Less maintenance, the fixtures are highly resistant to heavy impact, specially designed to withstand harsh conditions and require little maintenance.
5. No flicker, high-quality driver technology stabilizes current and prevents the stroboscopic phenomenon and glare.
6. Protect the environment, bright LEDs, that is, energy-saving and eco-friendly, will not produce the harmful gases of mercury.
7. Easy to install, just a few simple steps, open the lid, wiring, and then close the lid.
8. Multi-mounted, suspended or ceiling mounted installation can adapt to different application scenarios.
Where can tri proof lights be installed?
Since tri-proof lights are developed to withstand even the most demanding conditions, they are ideal for industrial areas including but not limited to: underground garage, basement garages, warehouse lighting, outdoor settings, factories, supermarkets, commercial entities, etc.
How to install LED tri proof lights?
There are two key ways in which to install tri-proof fixtures:
1. Walls using the provided hardware kit
2. Ceilings using hanging kits
How to test LED tri-proof lights?
When you've bought the tri-proof lights, it's only natural to make sure they work as the manufacturer described. You can conduct a series of tests to see if the lights will hold up as you hope. Most LED manufacturers have already conducted these to make sure the standards are met, including impact resistance and ingress progression. However, you can do further tests to ensure they hold up:
1. Apply water to fixture to ensure it doesn't become water damaged
2. Submerge it briefly in shallow water for no more than five minutes
3. Connect the light to an outlet to ensure it turns on
4. Use a photometer to check its intensity
5. Take a pendulum impact tester to determine its impact resistance.
Types of LED Tri Proof Lights
Tri-Proof Fixture with LED Tubes
Before the popularity of LED lighting, the light source and fixtures were often separate, (not the integrated design of LED lights we use now). Usually, we need to buy the light source and install it into the fixture and then do the cable routing. Considering the application and environment, this method is inconvenient to install, and it is not good to maintain.
This fixture has clips on both sides to hold the diffuser, so it protects the tube from water and dust.
Integrated LED Tri-Proof Light
The integrated LED tri-proof light shares the same tri-proof casing as the first one. The difference between them is that it replaces the tubes with LED modules (LED board + LED driver) and combines them together as an integrated lighting fixture. Thus, it's an upgraded model to the traditional damp-proof lighting fixtures.
The integrated LED tri-proof light can reach higher output power of up to 80w and the fixture length can be extended to 1.8m. Normally. the light efficacy of integrated LED tri-proof light can reach 130-140 lm/W. These features have made this tri-proof light stand out from all other counterparts.
LED Aluminum Damp-Proof Light
The LED aluminum damp-proof light adopts a new appearance design, with a modern appearance, and the product shape is more attractive to the public. Different from traditional waterproof luminaires, this Al damp-proof light has end caps on sides to seal the internal originals.
Weatherproof Batten Lights & Fittings
Weatherproof batten light is an alternative to the Al tri-proof light, which is slimmer and more affordable. Since less material is used for diffusers and heat sinks, batten waterproof lights are more competitively priced than aluminum waterproof lights. For lighting projects with small budgets, this lighting fixture is a good choice.