LED Security Lights
Why Buy LED outdoor security light from Lepro?
1. Top class quality. CE and FCC certified.
2. Satisfactory price and Energy Saving.
3. 360° Rotation & Easy Installation.
4. IP65 Waterproof.
5. Free shipping & 30 Days Money Back.
FAQs About Outdoor Floodlights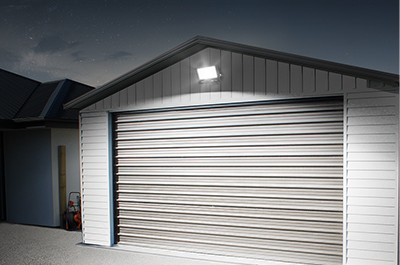 What is Floodlight?
Floodlights are just what the name says – light fixtures that can produce a significant amount of non-natural light, illuminating a large swatch of areas. When people think of flood (as is in floodlights), their minds automatically associate it with water. Floodlights do not correlate with water. Instead, they are floodlights because they flood a large area with light.
Floodlight VS spotlight
You may wonder what the difference is between spotlights and floodlights. Floodlights have a brighter light they shine, and the angle beam is much broader. Floodlights come with wide light patterns, generally used to illuminate a wide area; conversely, a spotlight is designed to travel a longer distance but in a much narrower beam.
Why Choose a LED Floodlight?
1. LED floodlights are up to 60% more energy efficient than a metal halide equivalent.
2. LED floodlights are reliable to operate in cold environments (normally down to -10℉) and hot environments (up to 140℉).
3. They are shock-resistant and vibration-resistant, and their longevity makes them an excellent choice for places hard to reach by conventional security lights.
How to Choose Wattages for LED Flood Lights
1. Low Wattage (15W - 40W) – Low-wattage floodlights are usually ideal for illuminating footpaths or doorways that require small, but frequent light. These lights often provide plenty of light for residential areas or very tiny areas around commercial buildings.
2. Mid Wattage (40W - 90W) – Mid-wattage lights operate within the range of 40-90 watts. They are perfect for illuminating areas such as small yards, gardens, or driveways with moderate brightness.
3. High Wattages (100W or more) – Once the power reaches 100 wattages, the floodlights are considered as "high wattage security lights." They are necessary for applications such as parking lot lighting, roadways, parks, and other municipal or commercial lighting needs.
Where can Floodlights be Installed?
Floodlights can be installed anywhere you'd like a large area to be covered, such as your driveway, walkway, backyard, or a playing area like a tennis court. There are all kinds of places where floodlights can be installed. What are some of these places beyond a home or commercial building?
Ports – Ports are wide open 24 hours a day, seven days a week, and need plenty of light to get work done.
Industrial Buildings – Industrial locations, which also operate 24 hours a day, seven days a week, also demand a lighting system that offers plenty of intensity.
Monuments and Architectural Building – An area's value increases when there are monuments and architectural buildings for visitors to check out. Floodlights can be used to brighten them up at night while adding to the magnificence they have to offer. It also deters would-be criminals from defacing these places. Different lighting techniques are used to highlight them, such as wall-washing or accenting.
Facade Lighting – A building's front half is one of the most critical areas to keep lit, as it's usually facing the street. It's often used to bring out an important aspect of the front, such as its company sign or logo.

Types of Security Lights
Motion Activated Outdoor Security Lights
The motion-activated security light activates when the PIR (passive infrared) sensor detects motion, which means the light is only used when needed and saves energy. In addition to being a safety feature to highlight any intruders, the lights also come on when you're walking down paths or steps in the dark, which is also a safety feature. Many of the available security lights have the ability to set how far they can activate and how dark it is to detect motion.
Solar Security Light
Solar security lights do not require a power source or wiring because they generate energy from sunlight. These lamps absorb energy from the sun during the day by using rechargeable batteries. These lights should stay on for 10-12 hours when fully charged. With no mains power, these lamps provide a cost-effective and environmentally friendly lighting solution.
Timers and Dusk to Dawn Security Lights
Some security lights are programmed to activate at set times or only when it gets dark and use photocells to stay lit until morning, a system that detects light levels. This type of lighting system is the least cost-effective option, mainly in winter when there are more dark hours.
LED and halogen floodlights
Floodlights are the most common type of outdoor lighting and are commonly used on the exterior of homes, parking lots, and business premises. LED floodlights are cost-effective because they use lower energy levels than halogen floodlights. Halogen floodlights emit bright white light and have electric and solar power options.
Related LED Security Light Videos
How to Ensure Safety by Using Lepro Floodlights
How to Save $Thousands with the Lepro Floodlights