High Bay LED Lights
28,000lm 200W UFO LED High Bay Light, IP65 & IK08, 500W Metal Halide Equivalent, 4000K Neutral White for Warehouse, Factory & Garage, CE & TUV Sud Certified

28,000lm 200W UFO LED High Bay Light, IP65 & IK08, 500W Metal Halide Equivalent, 4000K Neutral White for Warehouse, Factory & Garage, CE & TUV Sud Certified

2

5

5

1

Light Colour: Neutral White

Brightness (lm): 28000

Waterproof: Yes

Package Quantity: Pack of 1 Unit

Colour Temperature (K): 4000

Power Consumption (W): 200

21,000lm 150W UFO LED High Bay Light, IP65 & IK08, 400W Metal Halide Equivalent, 4000K Netural White for Warehouse, Factory & Garage, CE & TUV Sud Certified

21,000lm 150W UFO LED High Bay Light, IP65 & IK08, 400W Metal Halide Equivalent, 4000K Netural White for Warehouse, Factory & Garage, CE & TUV Sud Certified

2

5

5

1

Light Colour: Neutral White

Brightness (lm): 21000

Waterproof: Yes

Package Quantity: Pack of 1 Unit

Colour Temperature (K): 4000

Power Consumption (W): 150
Types of LED High Bay Lights
Several types of LED lighting fixtures are available for high bay ceiling lights. These include high bay shop lights, architectural high bays, and grid-mount high bay lights that each offer different lighting patterns and coverage styles. Each type of high bay lighting fixture offers different light qualities and coverage styles:
Round (UFO) High Bay Light
UFO high bays provide clear, uniform illumination of what is below it with little glare. And there are different kinds of reflectors available for UFO high bay lights to deliver different kinds of lighting results.
Linear High Bay Light
They are designed for indoor spaces with ceiling heights ranging from 4 to 6 metres to provide sufficient light.
FAQs About LED High Bay Lights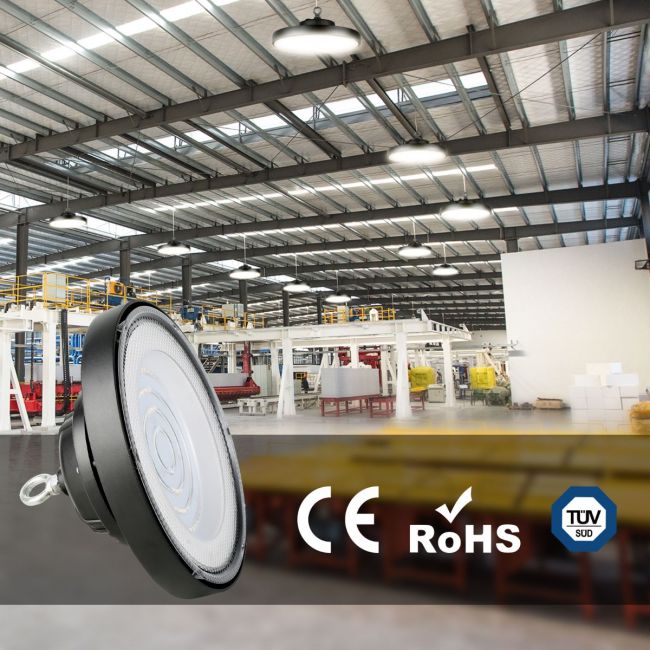 What is a LED high bay light?
"High bay lights" are typically defined as those lights which are installed on the ceiling over 18ft. Most often used in gyms, warehouses, garages, factories, and supermarkets, high bay lights are powerful lights that are designed to evenly illuminate large indoor spaces with little glare.
How long do LED high bay lights Last?
High bay LED lights are vastly improved upon conventional lighting options such as metal halide, high-pressure sodium, and fluorescent bulbs—in many features. Lower Operation & Maintenance Costs. Normally, LED high bays have a superior long lifespan of over 50,000 hrs, which is eight times as long as metal halide.
How do I choose the wattage and lumens of a high bay LED light?
The wattage and lumens of a high bay LED light depend on the height of ceilings:
10-15 feet – This height is ideal for lights with 10,000 to 15,000 lumens, 100 watts. 15-20 feet – This height is ideal for lights with 16,000 to 20,000 lumens, 150 watts. 20-35 feet – For this height, lights with 30,000 lumens, 200watt are ideal.
Why Choose LED High Bay Lights
LED High bay lights are an affordable solution to get high-quality warehouse lighting for the toughest jobs. One reason why people are switching from metal halides or incandescents to high bay LED lights is the lower energy costs. LED high bay lasts 10 times longer and uses 70% less energy than traditional lighting fixtures. Here's why you should choose LED high bay lights:
Environmental Friendly
LED lighting fittings do not contain harmful elements such as mercury found in other lamps. They are recyclable, which reduces their environmental impact and disposal costs. LED high bay lights have a very long lifespan and therefore require less replacement.
Energy Saving
LEDs are an efficient option in terms of energy consumed in lumens - they offer the highest lumen output and energy consumption on the market. High bay LED lights consume more than 75% less energy than incandescent lamps.
Lower Utility Costs
Because LEDs use less power to achieve the same (or better) results than fluorescent or metal halide lamps, they reduce utility costs. They also burn at lower temperatures, so they won't negatively affect your cooling unit.
Super Long Lifespan
LED high bay lights can last for more than 8 years, with some options providing over 50,000 hours of lighting. They are also very durable because there is no filament. A less frequent replacement has a positive impact on the environment and reduces labor costs.
Improve Security
High bay LED lights do not produce any mercury or UV rays. Besides, they are a kind of cold lighting source, which makes them safer to operate without fear of burns.