LED Ceiling Lights
FAQs About LED Ceiling Lights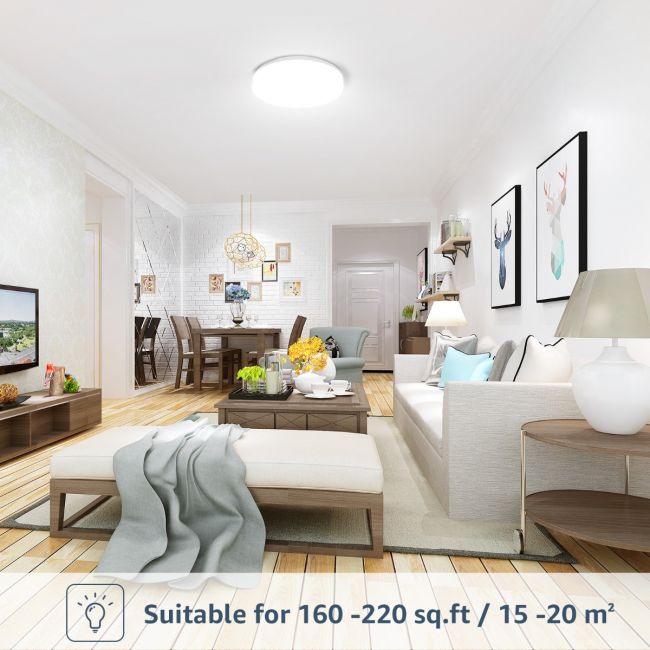 Is LED ceiling light Good?
1. LED ceiling lights are one of the most energy-efficient lighting sources for indoor lighting.
2. LED ceiling lights last up to six times longer than regular lights and help save lots of maintenance fees.
3. Lower Temperatures and Heat Production.
4. Better aesthetics and overall design.
How to install flush mount ceiling lights?
1. Pull the bracket lock to take off the mounting bracket.
2. Fix the mounting bracket to the ceiling.
For concrete and stone ceilings, first drill two holes. The distance between these holes should be approximately 45 to 70mm. Please check your product manual for more details. Insert the concrete anchors and then fix the mounting bracket in place with screws. For wooden ceilings, simply use a screwdriver to fix the mounting bracket.
3. Add anti-scratch pads to the back of the lamp body.
4. Open the lights' waterproof wiring compartment.
5. Insert the wires into electrical connections N and L accordingly.
6. Straighten out the wire, put the rubber sealant into position and lock the wiring compartment.
7. Pull the bracket lock and attach the lamp body to the mounting bracket now firmly fixed in place.
8. Turn on the main switch. Your lamp should now light up instantly. Your installation was completed successfully!

Flush vs. semi-flush LED ceiling light
Once you have decided that lighting close to the ceiling is the right choice for you, it becomes easy to eliminate half the options by knowing whether you need a Flush Mount or Semi-Flush fixture!
The main difference is that a flush mount sits directly beneath the ceiling, while a semi-flush fixture hangs several inches below the ceiling, creating an air gap between the ceiling and the fixture.

Based on your ceiling's height, you may be limited in what fixture you can install:
For very low ceilings (below 20cm), you will want to pick a flush mount light fixture (though if you have a table or a counter below your lighting spot, you can choose a semi-flush or even a chandelier).
For ceiling heights of 21cm to 25cm, consider a semi-flush mount light. Most create a distance of less than a foot from the ceiling.
For over 25cm ceilings, chandeliers or pendants usually make the most appropriate choice.
Flush light fixtures work best in hallways, closets, bedrooms, or bathrooms. Semi-flush light fixtures add a particularly nice touch to a kitchen nook or a smaller, low-ceiling dining room.
And that's it! A short guide on how you can smartly introduce flush lighting into your interior space and reap the rewards of the right lighting choices. Whether you opt for a flush or semi-flush light fixture, you can expect your ceiling space to be changed dramatically through the introduction of the appropriate decorative lighting!
How to Choose Types of Ceiling Lights
Chandelier for ceiling lights
A one-of-a-kind, attention-drawing, and playful chandelier can set the purpose of a room and influence the atmosphere of an evening. Varying shades of light have curated a truly distinguished collection of chandeliers that span the full spectrum of today's home décor styles and needs.
Pendant lights
Pendant lights constitute the heart and soul of modern interior spaces!Designed to effectively use and showcase high-potential LED lighting, they make the perfect companion to both exposed and high ceiling trends. As a result, pendant lights are an increasingly popular choice across the world. Their pendant feature and inherent installation flexibility means pendant lights are easily adjustable and a great choice for any setting, including individual offices, workstations, shops, restaurants, and foyers.
Track lights
These specialty lights enable perfect illumination of displays and showcase applications across stores, supermarkets, museums, restaurants, and other spaces that value a focused light source. Track lights are a versatile and universal lighting option and the ideal solution whenever you wish to emphasise products on display.
Panel lights
Panel lights are versatile, slim and highly-effective in both residential and commercial settings. This kind of lighting fixture offers a great alternative to more traditional lights if you are looking for something unique.
Spotlights
Spotlights constitute one of the most flexible lighting options for any ceiling. Spotlights come in various types and sizes, with some featuring multiple heads to suit your space and accommodate your personal preferences. With careful adjustment, these lights can offer amazing colour output. Furthermore, spotlights make an excellent choice if you wish to highlight specific elements in your home or office, such as art, décor, or special features like chimneys.
Batten fix lights
A batten fix is a popular type of light fitting that needs just a single fix on a lighting holder or wall, meaning installation is simple and the lights are space-conscious. They are fitted with DIY connectors and shades that allow you to add a personal touch and design to any room. The major benefit of batten fix lights is that they do not require an expert electrician for installation, thereby saving you costs.
Downlights
LED downlights, also known as recessed LED lights or pot lights, are an ideal choice for both indoor and outdoor lighting needs. LED downlights are fashionable, functional and energy-efficient! They shine bright light through randomly-sized and directed ceiling holes, creating unique effects.
Flush Mount LED Ceiling Lights
Flush mount ceiling lights are designed to be mounted flush to the ceiling, meaning no gaps remain between the ceiling and the light fixture which creates a smooth transition. Flush mount fixtures unobtrusively hug your ceilings to provide a source of ambient lighting, meanwhile setting the tone for a distinguishing living space. These low-profile lights are perfect for rooms where space is a premium and ceiling height is limited. Lighting designers often recommend flush mount lights due to their incredible versatility in offering inconspicuous lighting.

Flush mount ceiling lights make an important ingredient in achieving quality lighting and lending visual appeal to living rooms, bathrooms, bedrooms, kitchens, hallways, closets, hallways, foyers, patios, garages, and a myriad of other indoor spaces.
Semi-flush Mount LED Ceiling Lights
Semi-flush mount lights are mounted close to the surface with a base that sits flush against the ceiling. These fixtures typically include a rod or several stems dropping down from the base to hold the light assembly in place, meaning the lights will hang anywhere between 8" to 21" below the ceiling. A semi-flush mount fixture can evoke the same exquisite aesthetics as pendants and chandeliers but in a more compact form. These fixtures are especially functional and a great choice for low-ceiling spaces that do not meet the steep vertical space installation requirements of pendants, chandeliers or other dangling lights.
Related Videos About LED Ceiling Light
How to Install a Flush Mount Ceiling Light
LE Smart LED Ceiling Light, App or Voice Control